News

** November - December, 2018, Gallery Futuro, Nizhny Novgrod, Russia, duo exhibition, part of the project `The 4th Revolution`, Philosophicum and ProHelvetia.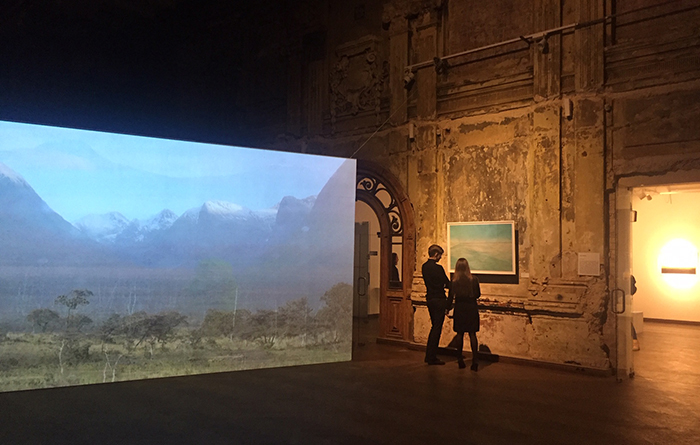 ** `Berge` is shown at TANK, Institut Kunst HGK FHNW, Basel, exhibition curated by Roman Kurzmeyer, 2 - 11 March 2018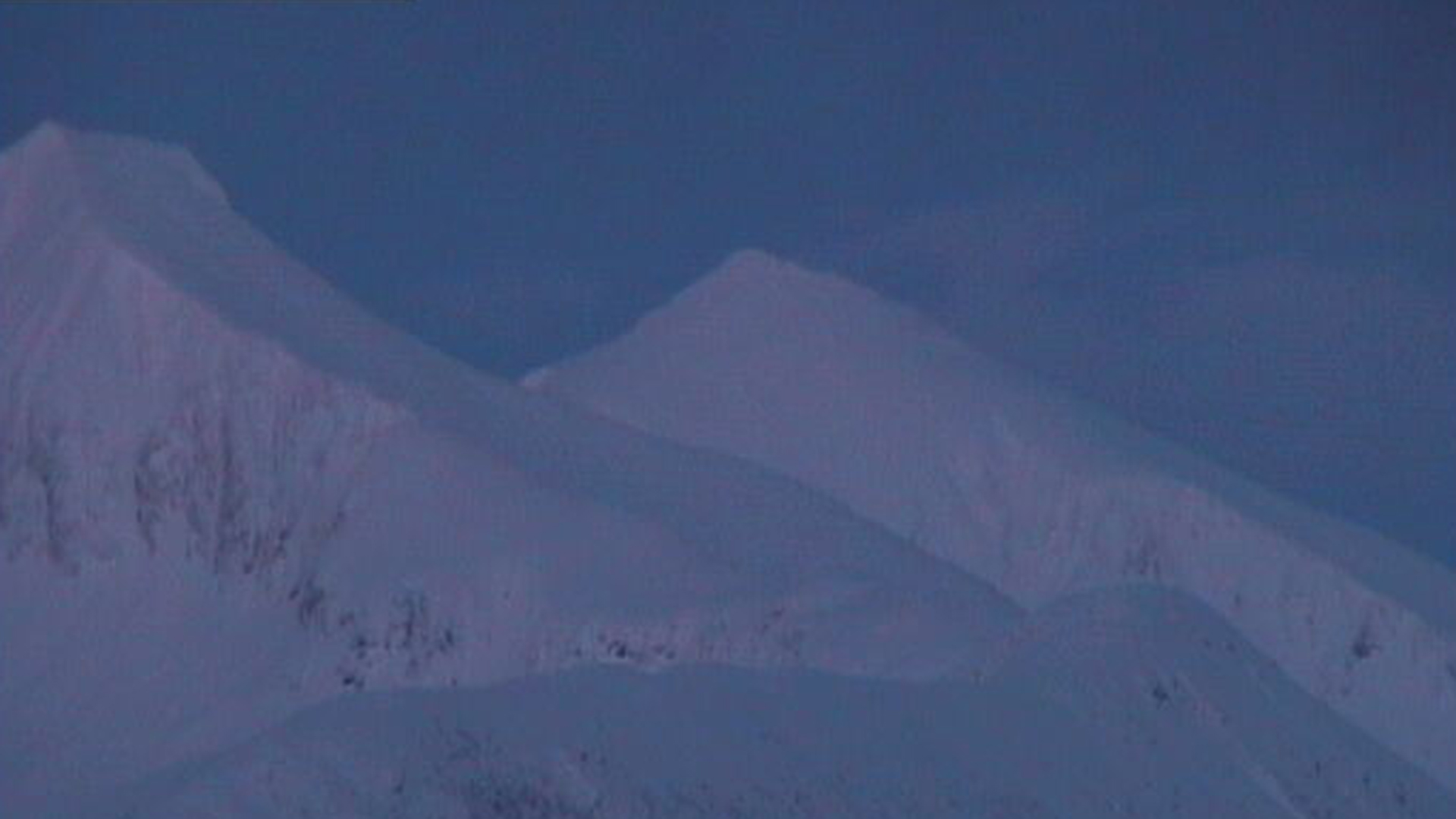 **
`The Grand Tour` is shown at the `Quikscan NL#02` exhibition curated by Frits Gierstberg
January 23 - May 8,2016, Nederlands Fotomuseum, Rotterdam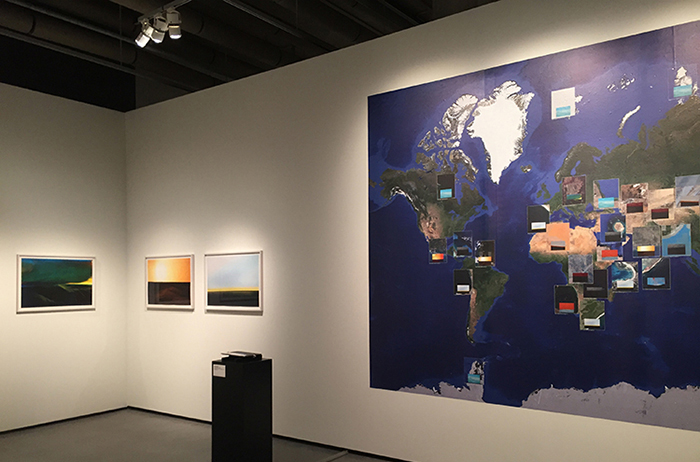 **
De Volkskrant, 16-02-16, review by Merel Bem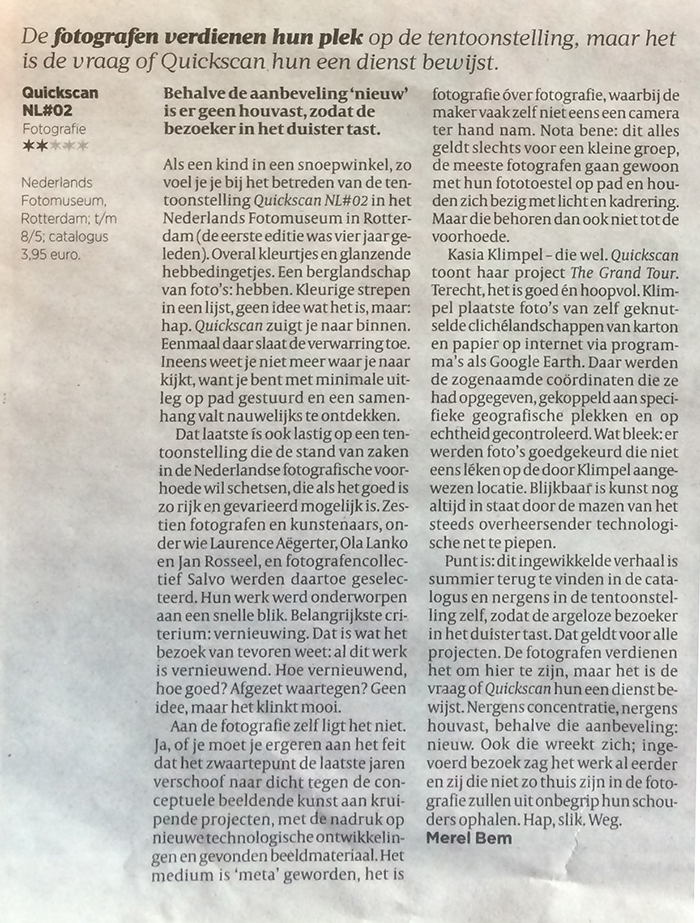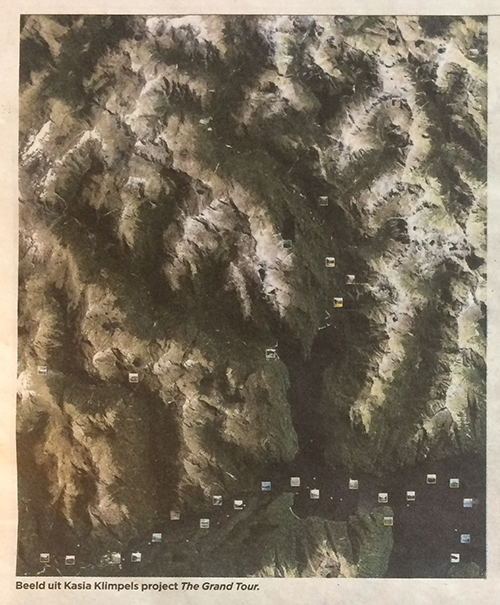 **
NRC, 01-02-16, review by Sandra Smets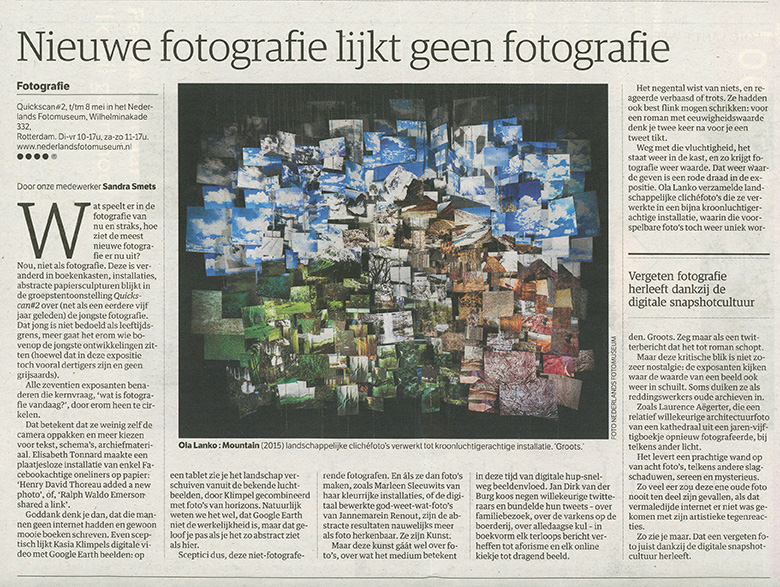 **
During KALEID editions` tour in the USA presenting a selection of European artists` books to public and private collections, publication `Still` has been acquired by i.e. The Metropolitan Museum of Art`s Library, MoMA Library & The Flaxman Library, Joan Flasch Artists' Book Collection.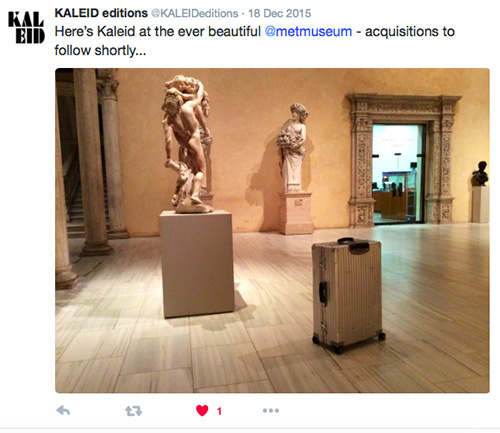 **
**
Photo `Untitled` (Cosmos), 2014 being printed @Camera Austria for the magazine`s December issue as insert/poster.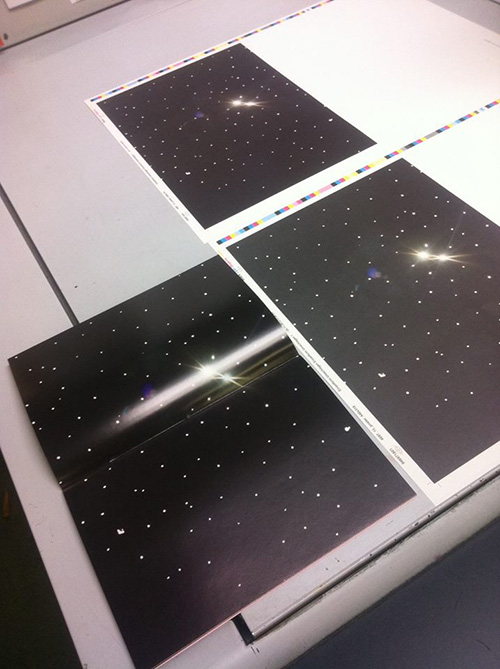 **
´The Grand Tour´, solo exhibition, Mauvoisin Dam & Le Musée de Bagnes, Le Châble, Switzerland, June 20- September 6 2015


**
´The Grand Tour´ published by Roma Publications, Amsterdam, coinciding with the exhibition at the dam of Mauvoisin and the Musée de Bagnes in Le Châble as well as Situation#15 at Fotomuseum Winterthur.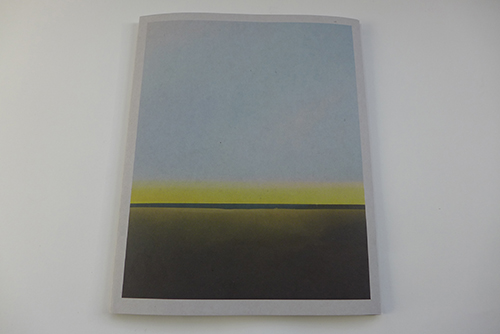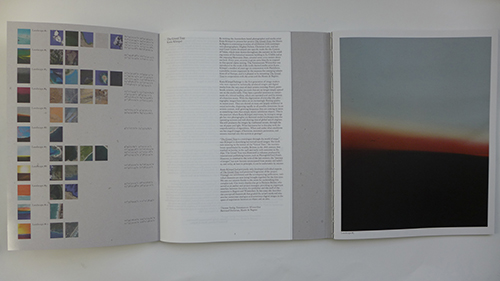 **
June 12 - September 29, situation#15: Kasia Klimpel, The Grand Tour at Fotomuseum Winterthur, Switzerland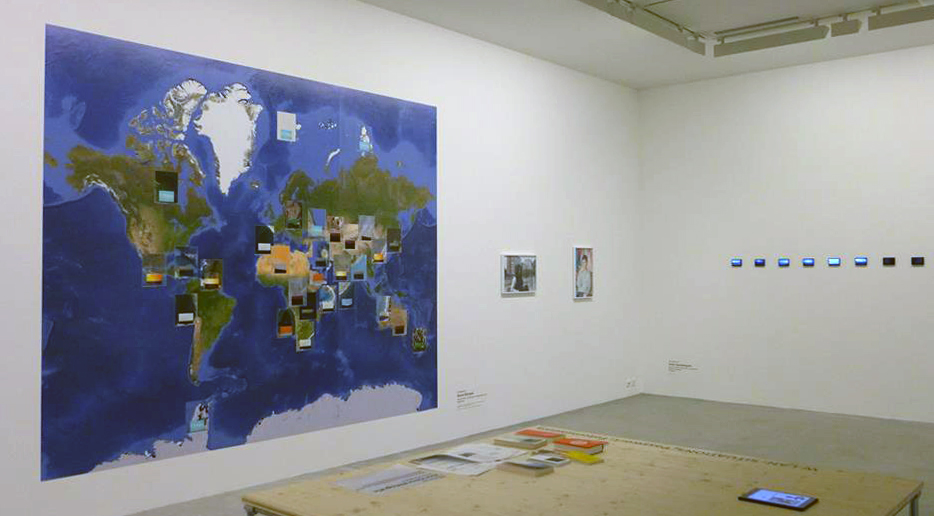 Installation The Grand Tour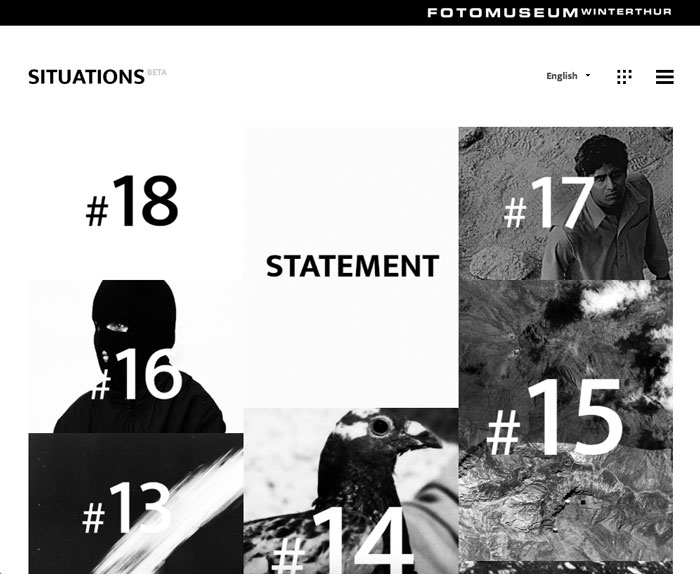 Situations website
**
Publication ´Still´ is shown at the Fotografia Europea Festival, Reggio Emilia, Italy ´Le cose che si vedono in cielo´ 15 May - 26 July, 2015


Past

**
screening of ´The Grand Tour´ video made during the CFAT Media Art Scholarship program
February 10, Bus Stop Theatre, Halifax, Nova Scotia, Canada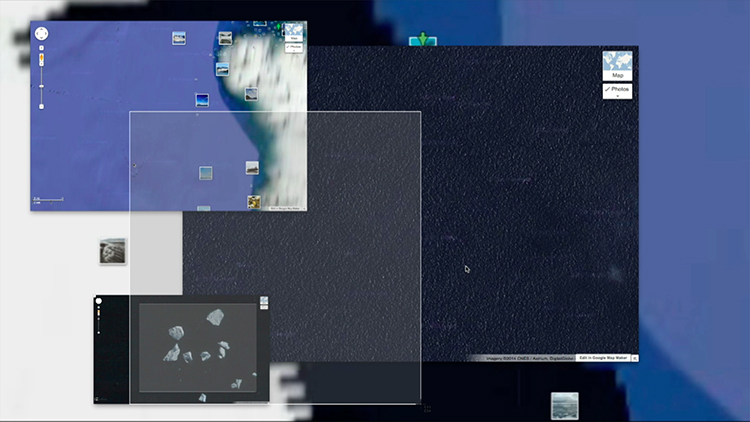 video still ´The Grand Tour´


**
Publication ´Still´ is on the list of Erik Kessels´ favourite photobooks published in 2014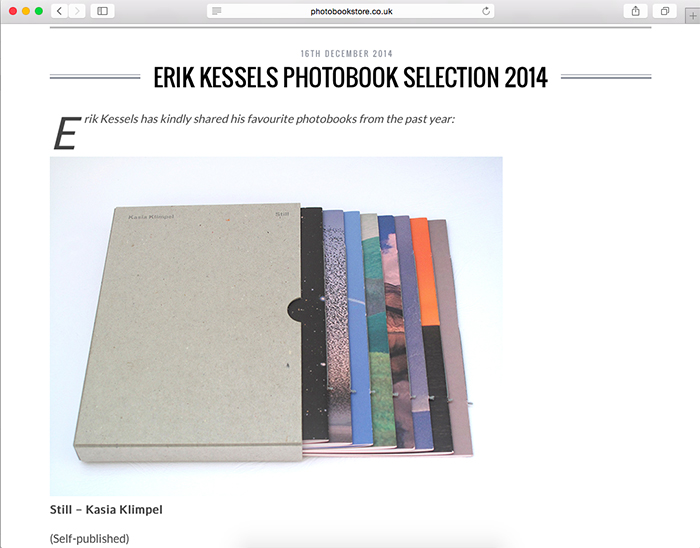 **
Publication ´Still´ will be available at the sittcomm.sk stand at Polycopies, a book fair running parallel to Paris Photo.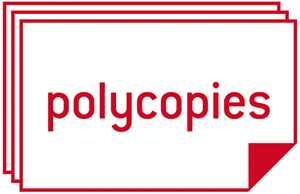 ´The first edition of this « salon des livres » is taking place on the boat Concorde-Atlantique below the Musée D'Orsay. During four days, running parallel to the Paris Photo fair, these 35 publishers will bring you a large selection of newly published books, organizing numerous meetings and signings with photographers.´
Bateau Concorde Atlantique
Berges de Seine - Port de Solferino
75007 Paris
**
The Plantation Journal 3 Sculptural Landscape, launch at LO/A Paris, 15th November 6-9pm
´The issue explores the work by artists Jim Mangan, Adam Jeppesen, Luca Tombolini, Linn Pedersen, Mårten Lange, Kasia Klimpel and Inka Lindergård & Niclas Holmstrom. The essay is written by Marius Moldvær.

In the projects in The Plantation: Sculptural Landscape the force is not directed towards the medium of photography as such, but towards the physical landscape the artists are in. Through this action, the projects presented here become landscapes that disappear and reappear in different forms, they become continuing mediations of landscapes that are both familiar and unfamiliar to us. This action towards the landscape manifests itself through different techniques in the projects; through abstraction, juxtaposing the near and the distant, infusing tactility, and a "going-out" to landscapes that to them, as well as us, are unknown and sculpt—or manipulate—them into landscapes that are personal, cultural, aesthetic, and physical. What you hold in your hands are landscapes mediated through photography, an active sculpting from the raw material of their surroundings, these artists show us a landscape yet to come, a landscape that is private and subjective, cultural and objective, physical and ephemeral, all at once. - Marius Moldvær
The Plantation Journal is a series of printed publications that invites to a continuing conversation on current issues within contemporary sculptural photography. Printed in a limited amount of copies only, each issue is produced as an object for you to keep and collect. Edited by Trine Stephensen and Elevine Berge. Design by René Josdal.´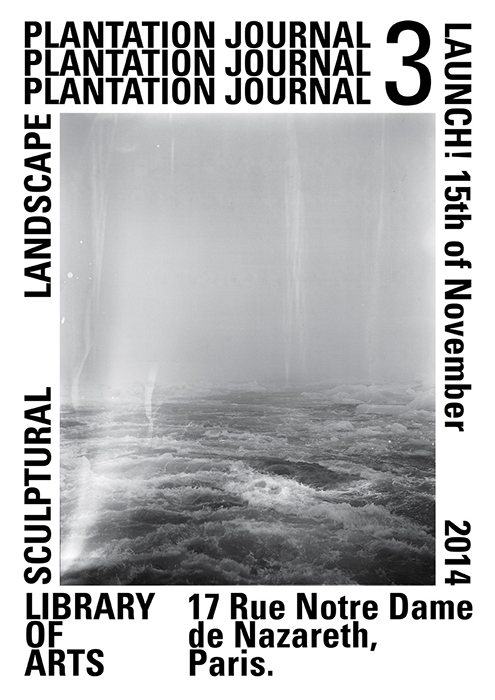 **
Publication ´Still´ has been featured as Book du Jour on the Self Publish, Be Happy website.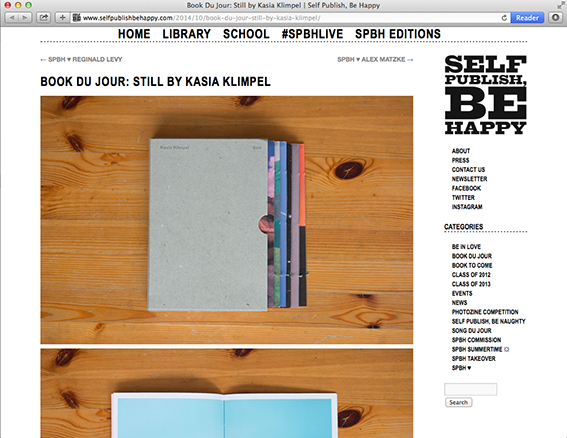 **
Mister Motley and Trendbeheer have visited Unseen: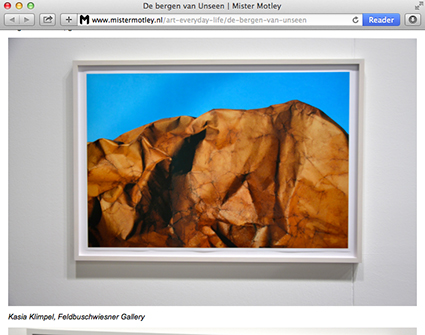 Mister Motley: De Bergen van Unseen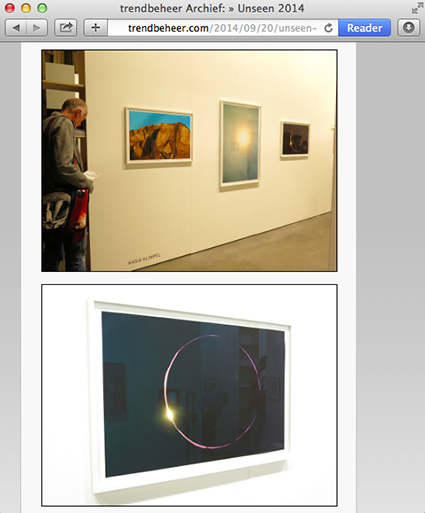 Trendbeheer: Unseen 2014

**
at unseen photo fair in Amsterdam with the Gallery FeldbuschWiesner
19.09 - 21.09 2014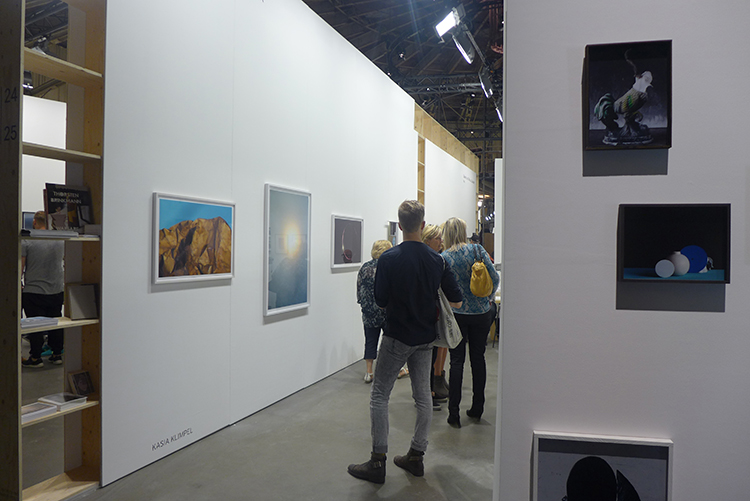 **
The publication 'Still' is now available for orders. Click here for more details.
**
I have been selected as one of the recipients of the Media Arts Scholarship Program at the Centre for Art Tapes, Halifax, Canada

**
Series ´Landscapes` & ´Relinquishing the moments to come´ featured in the Fotograf Magazine, #23 artificial worlds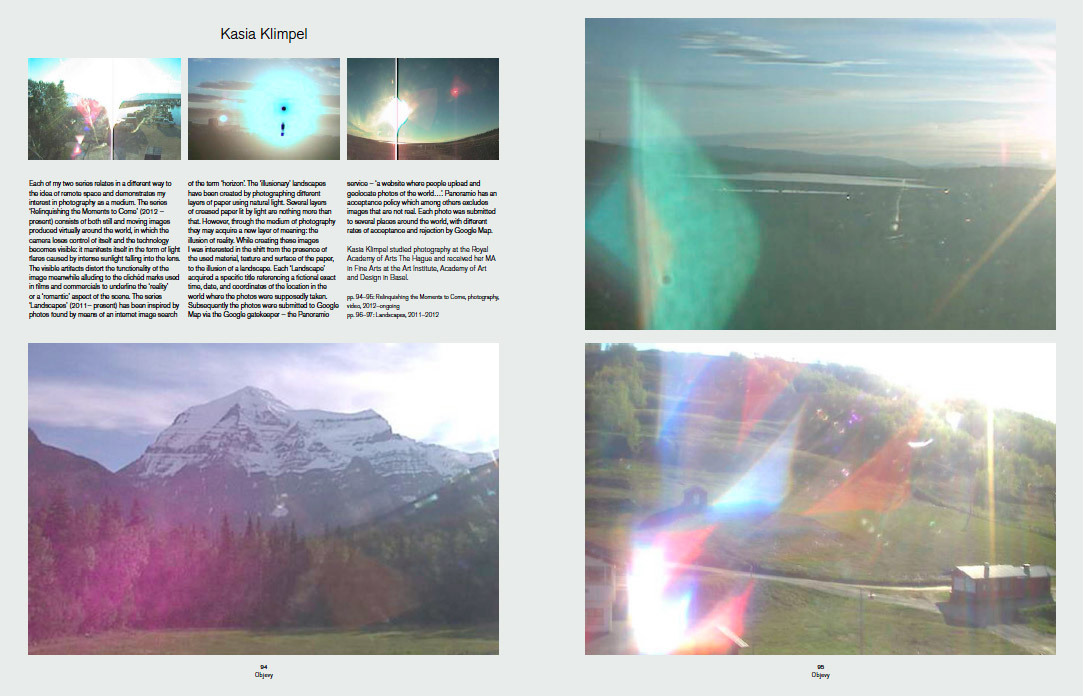 **
Publication'Still` at the ´I Never Read` Art Book Fair Basel
18. – 21. 06. 2014, Volkshaus Basel, Rebgasse 12-14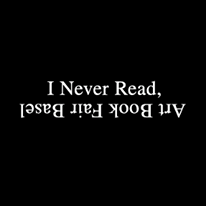 **
Publication'Still` at the ViennaPhotoBookFestival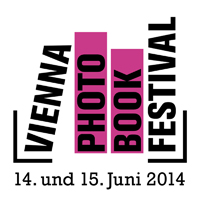 **
Der Tagesspiegel on the 'Cut, Fold, Rewrite' show at the Gallery FeldbuschWiesner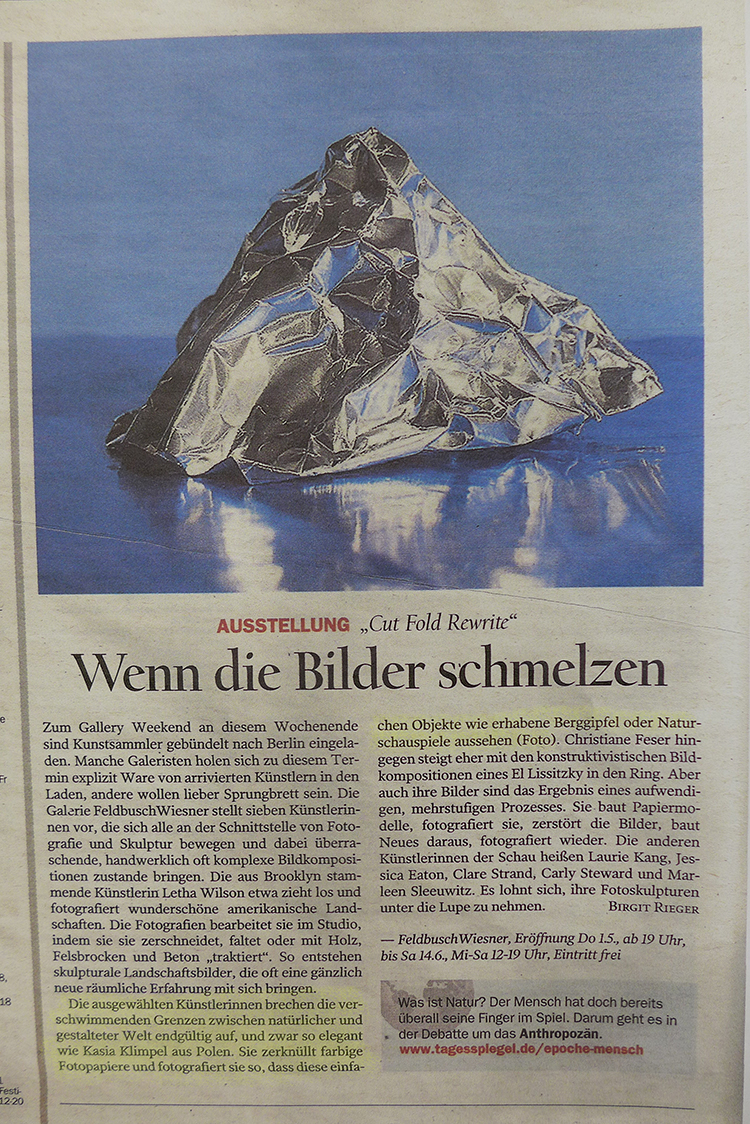 **
02 May - 29 June, 2014, 'Cut, Fold, Rewrite. At the Insterstice of Photography and Sculpture', group exhibition, Gallery FeldbuschWiesner, Berlin
Opening: 01 May 7pm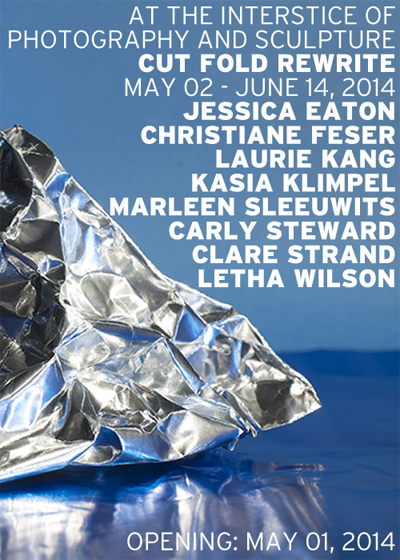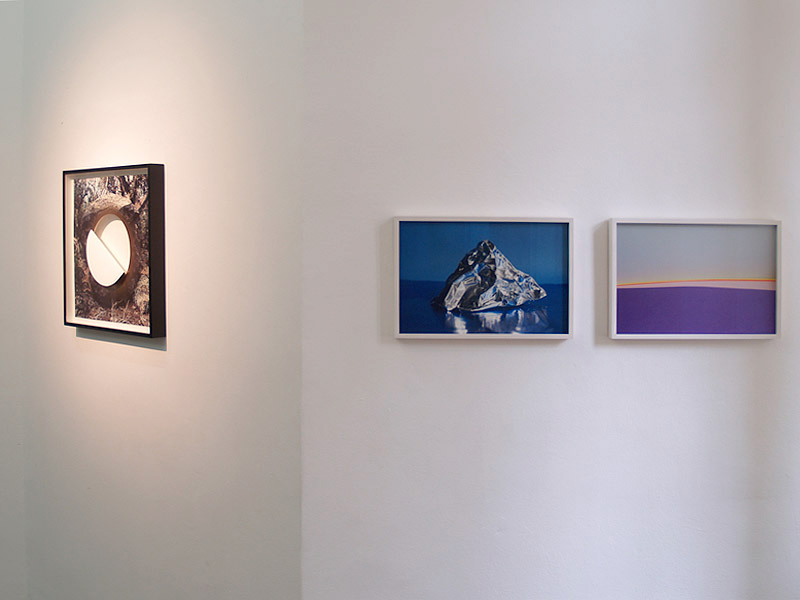 From the press release:

On the occasion of Gallery Weekend Berlin, the Gallery is delighted to present a group exhibition of seven international female artists working at the interstice of photography and sculpture.
In a modern world where digital photography and smartphones allow for instant publishing and continuous reproduction, a new generation of artists are making a conscious decision to adopt an artisanal approach, combining photography and sculpture in an object-oriented photography.
If we look back at the history of sculpture we can see photographic principles reflected in the sculptural process; here, the process is also visible vice versa. The artists exhibited in Cut Fold Rewrite find ways to create colours and objects in the camera, like Jessica Eaton, and construct spectacular landscapes and spaces for their photographs, like Kasia Klimpel and Marleen Sleeuwits. Laurie Kang folds and sculpts light-sensitive photographic paper into minimalist, sensuous sculptures; Christiane Feser's multi-dimensional geometric object photographs create a labyrinth of space and time.
The artists' studios become laboratories, where arranged still lifes and constructions act as static subjects that are experimented on in a controlled environment. This environment provides the conditions for the artists to search for new aesthetics and forms for photography. They do not design within the picture, as for example in the context of Bauhaus photography, but for the picture: with the paper, with the camera, in the camera – basically, with the entire spectrum of photographic material.
The subject and production process are not immediately obvious in their works, as the artists turn their backs on classical forms of representation and capture ephemeral moments and situations. The materialisation of processes is their primary interest. Pictures no longer make reference to a single subject and a fixed point in time, but create fictional places and times. The relationship between object and representation forms a point of departure for their work, from which the medium is put under scrutiny and the borders between photography and sculpture are constantly renegotiated.

**
December 2013 - February 2014, 'Sculpture', curated by Reinhard Braun, group exhibition, Camera Austria, Graz, Austria
Opening
6.12.2013, 8 pm
in the scope of CMRK
Exhibition talk
with the artists present
7.12.2013, 1 pm
With Laurie Kang (CA), Kasia Klimpel (PL/NL), Lotte Lyon (AT), Christian Mayer (AT), Peter Puklus (HU), Carly Steward (US), Michael Strasser (AT), Anita Witek (AT)
Intro
Cutting, stacking, furling, folding fragile materials and arranging them in precarious and transitory states of equilibrium that the camera translates into sculptural phenomena or into simulacra of spaces or of architectural or natural structures on the one side; on the other, pictures, models, dummies, still-life-like constellations that have become installations, sculptural arrangements that have been translated into pictures: these are different approaches to the issue of photography as material and embodiment and its entanglement with the world of things, of reality that completely disregards the question of referents. What is at issue is not the connection between image and reality. The confrontation of material and image takes the form of collision rather than that of representation: a collision of materials, bodies, surfaces with the visual (or the gaze) rather than that of different types of visuality; a mutual translation, a deception, a sleight-of-hand, a series of revelations and concealments, of making one thing pass for another, of oscillations between picture and object, whose purpose is to put a distance between the act of making things visible and their visibility.
The exhibition project focuses on photography as an ongoing material practice rather than on the question of the production of meaning. The resurgence of interest in the analogue might be seen as a kind of desire for the image as object, for objects as images, a desire for images as raw sensual data, images that do not refer to anything but represent a kind of performance in and of themselves, a discrepancy between what can be said and what can be seen. This discrepancy may go so far that literally next to nothing remains visible in the images. However – and this is truly remarkable – this does not affect their ability to present a visual event, a space for articulation, in which an essential part of the visual is represented by a gap.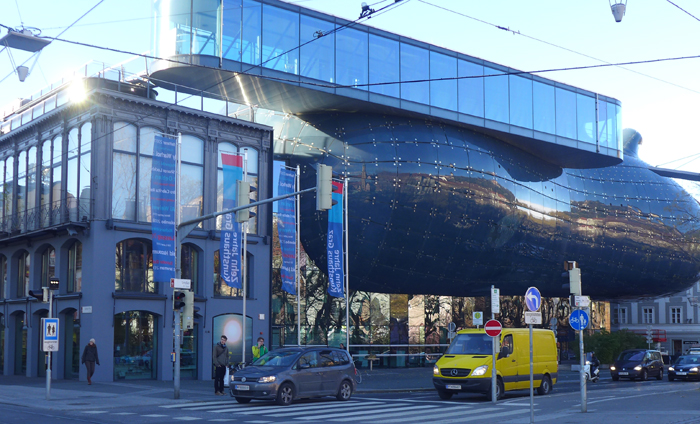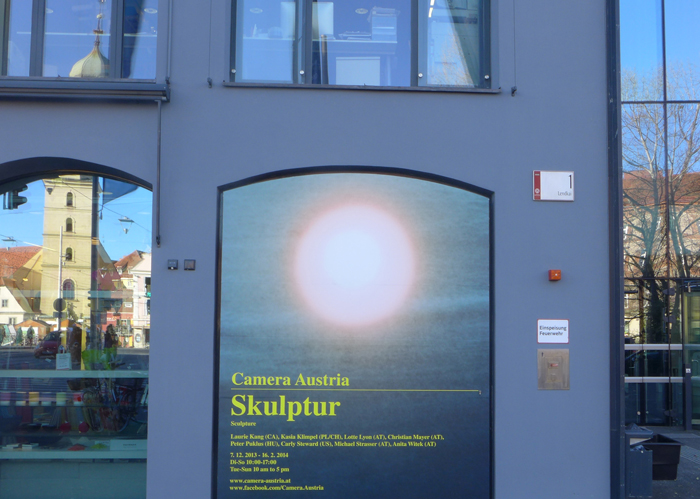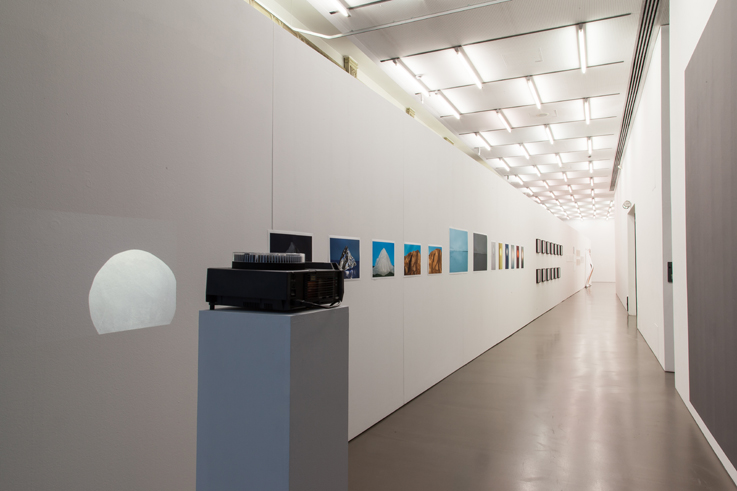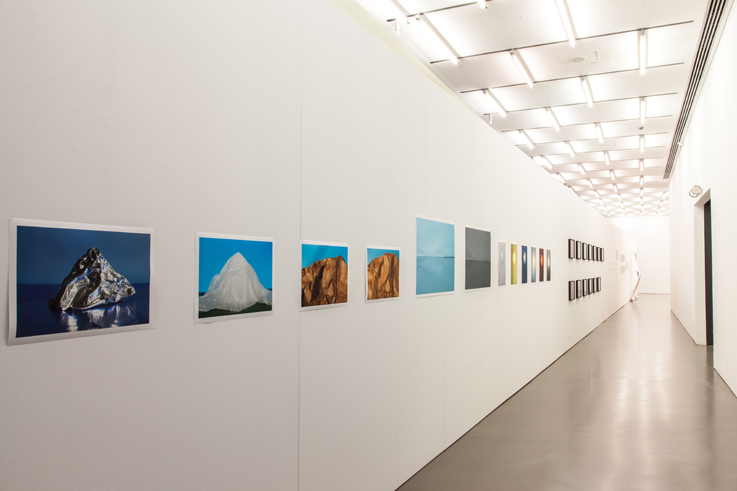 **
1 December 2013 - 5. January 2014, Regionale 14, 'Ma(r)king Territories', curated by Doris Gassert, Haus für Elektronische Künste, group exhibition, Basel, Switzerland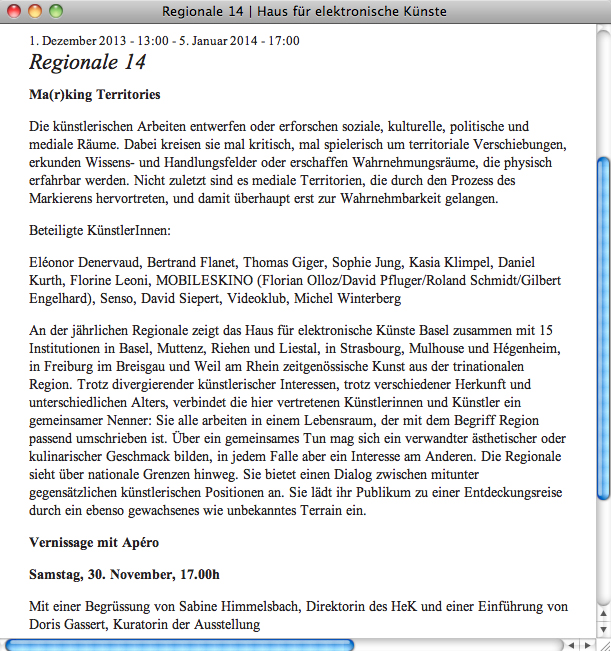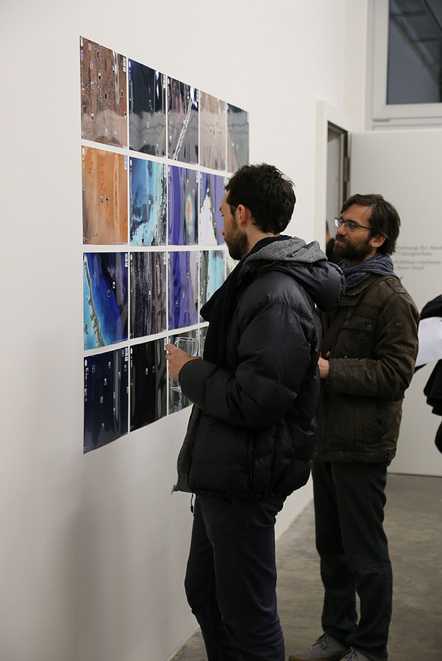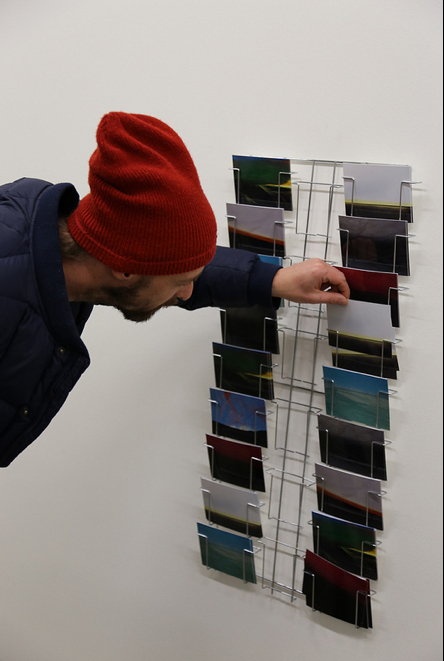 **
September 2013
A few of my photo's have been selected for the BankGiroLoterij Talent Collectie shown at unseen photo fair in Amsterdam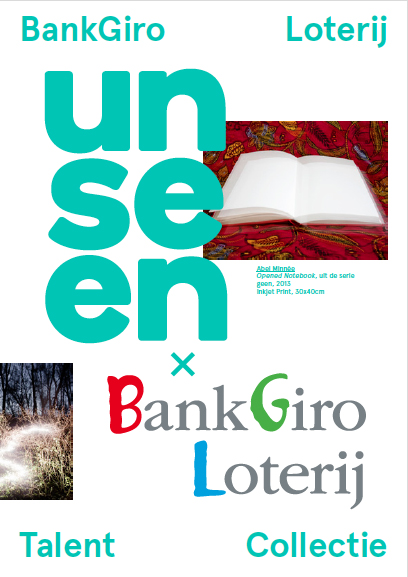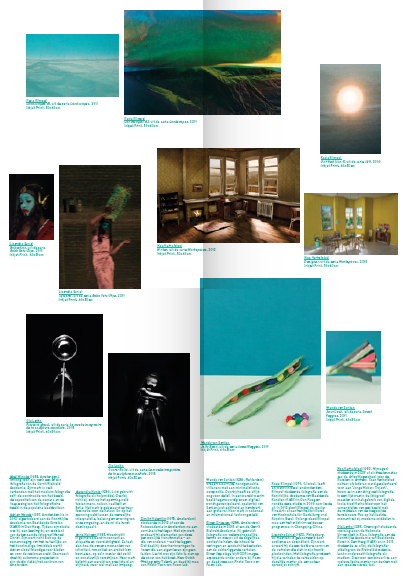 **
August 2013 now online: 'Eine Frage des Blicks', an essay written by Doris Gassert on the 'in reality' project on the occasion of the current online exhibition @Collective View
screenshot of the Collective View website: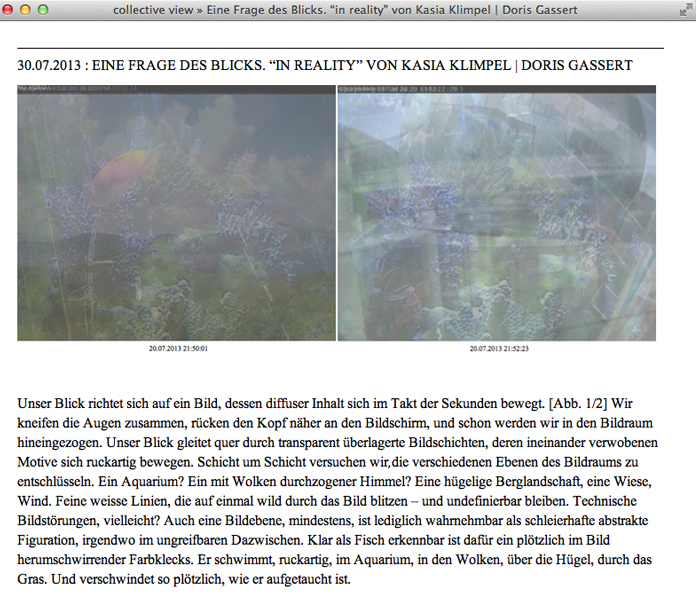 **
The series 'Landscapes' has been featured in the FORUM section of the Camera Austria International magazine, no.122, issue published in June 2013.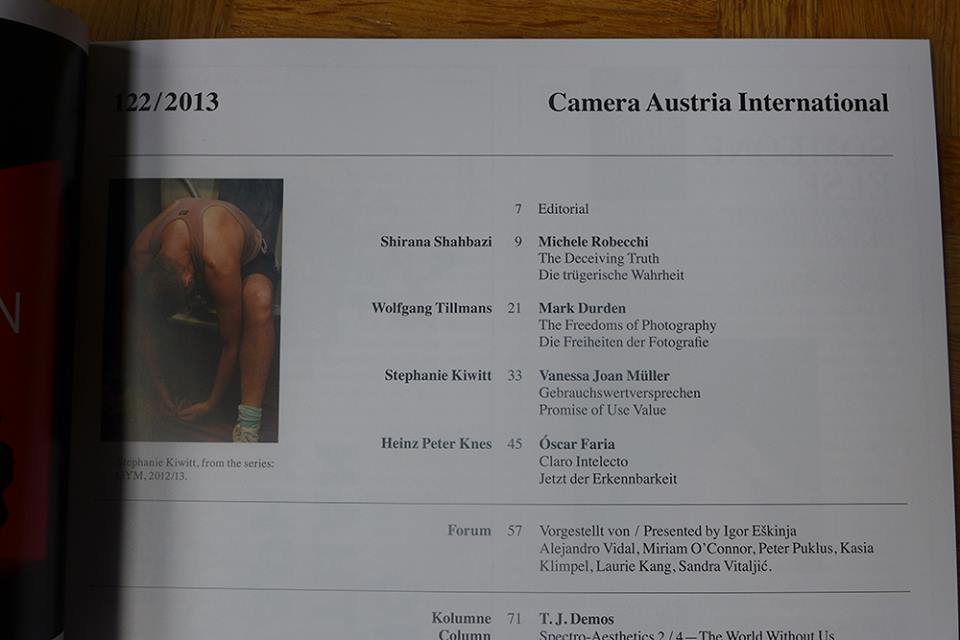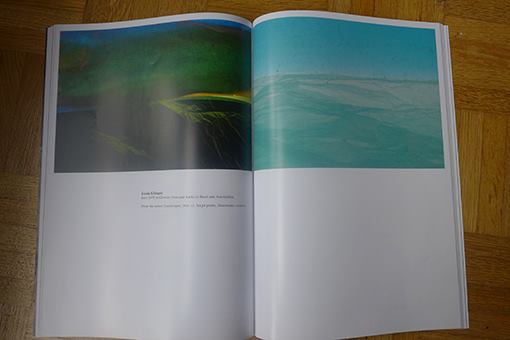 **
02 June - 18 August 2013
online exhibition of the project 'in reality' on the website 'Collective View', a research platform on real-time webcam images; curated by Damian Jurt
screenshot of the Collective View website: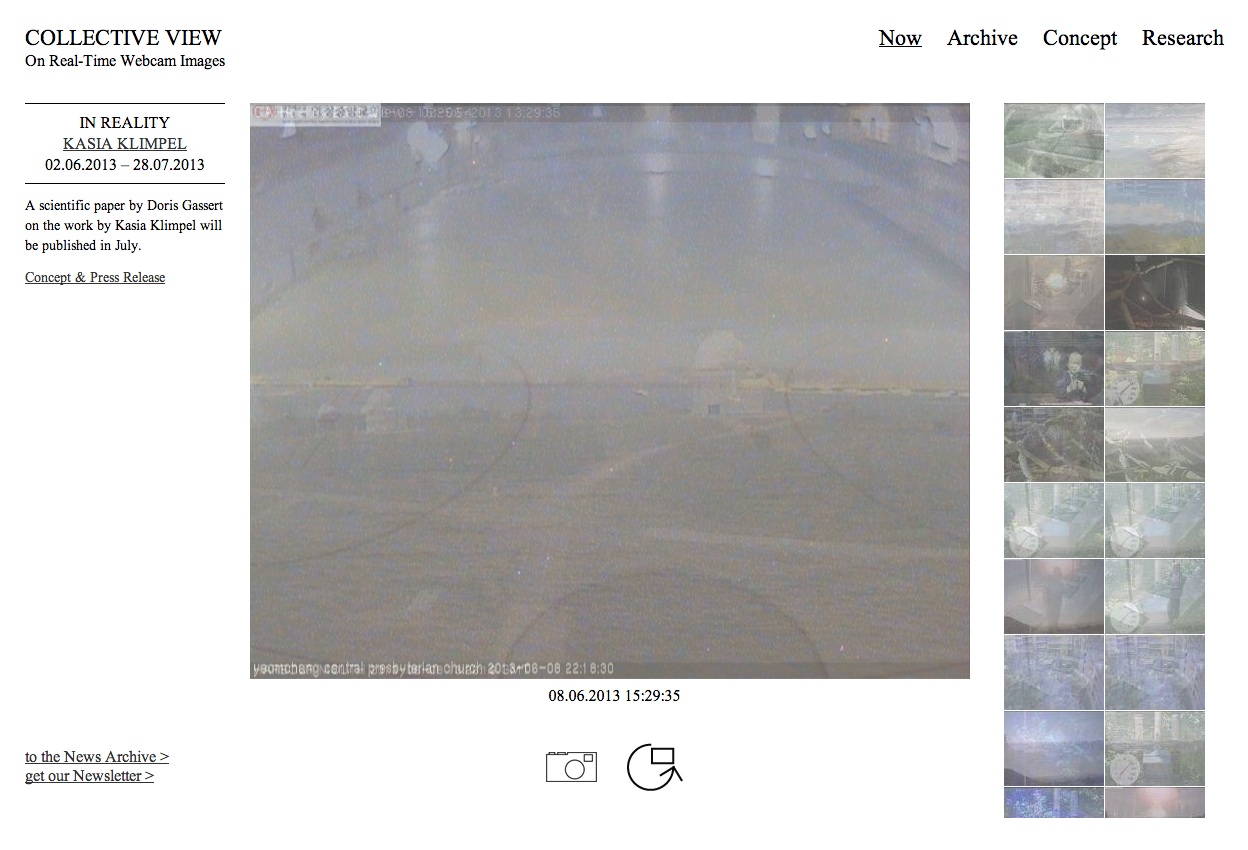 **
My series 'Still' has been featured on 'I like this' blog.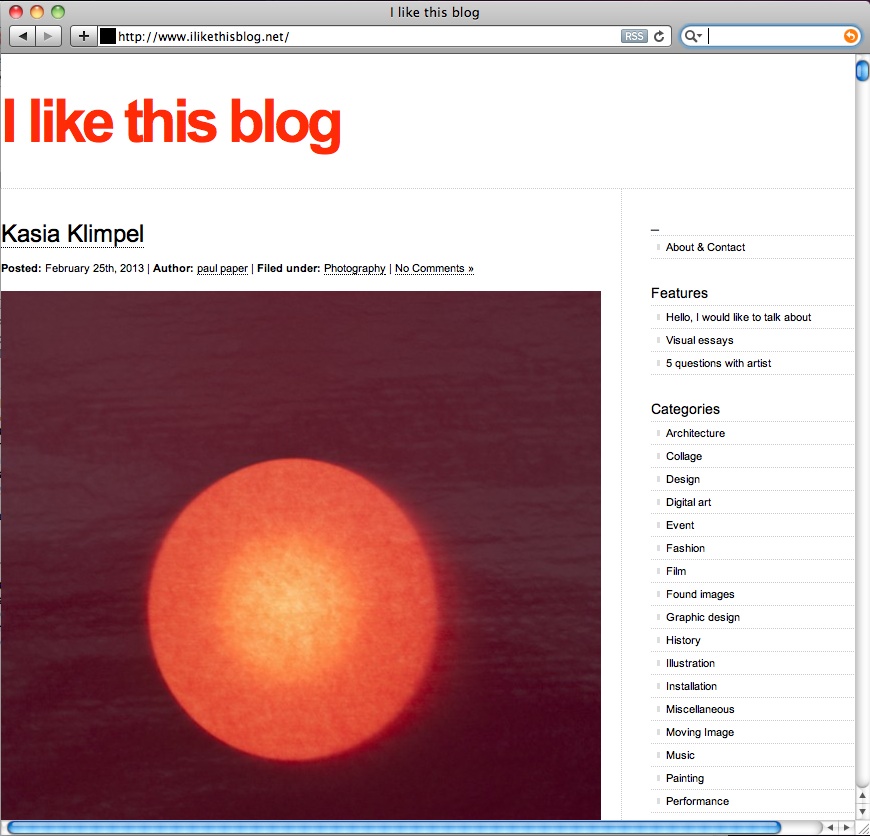 **
October - November 2012
Artist-in-residence programme in Chongqing, China at Organhaus, an independent art space led by artists and curators. Programme supported by Pro Helvetia Shanghai.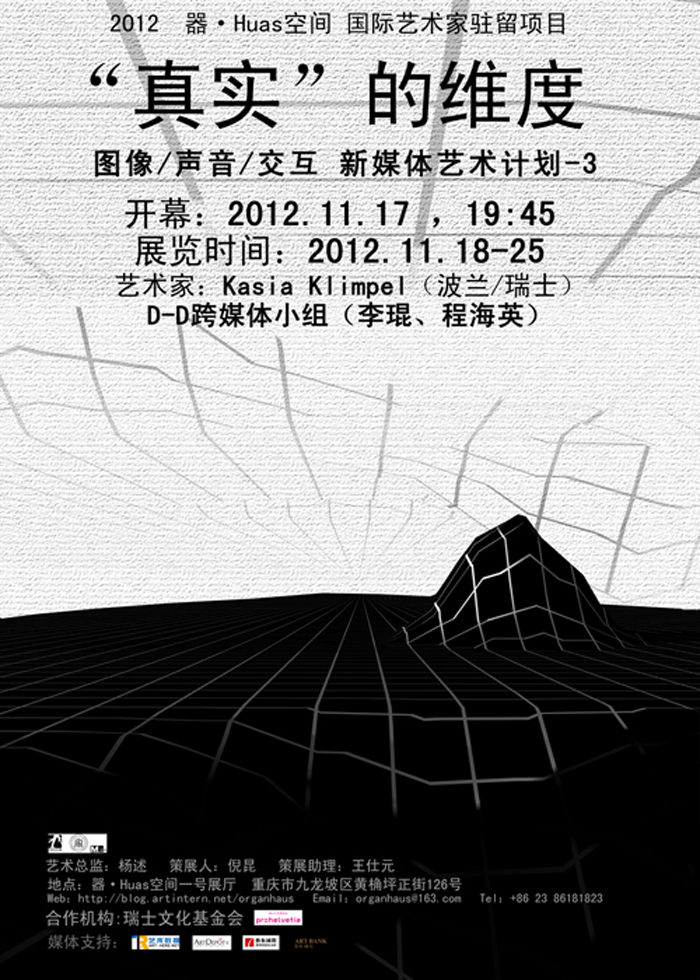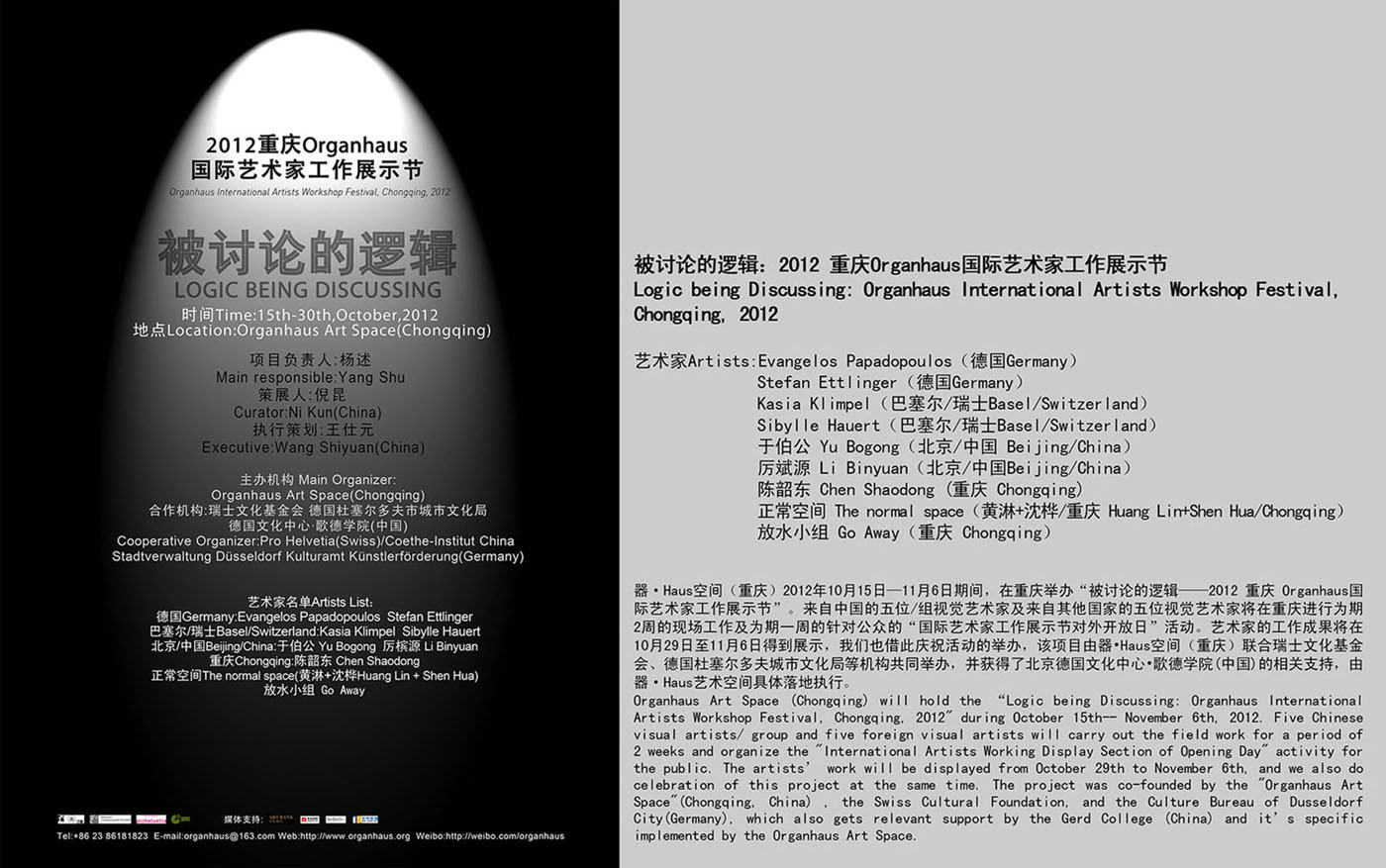 **
Degree Show Master Fine Arts HGK Basel, Kunsthalle Basel, Switzerland
Graduation project: The Grand Tour.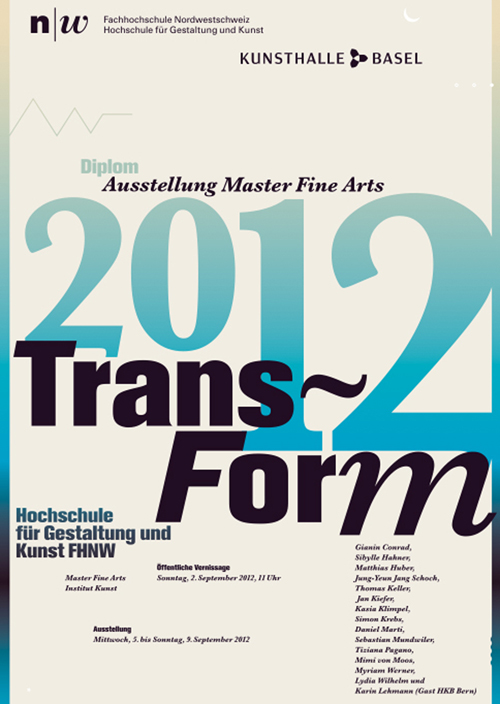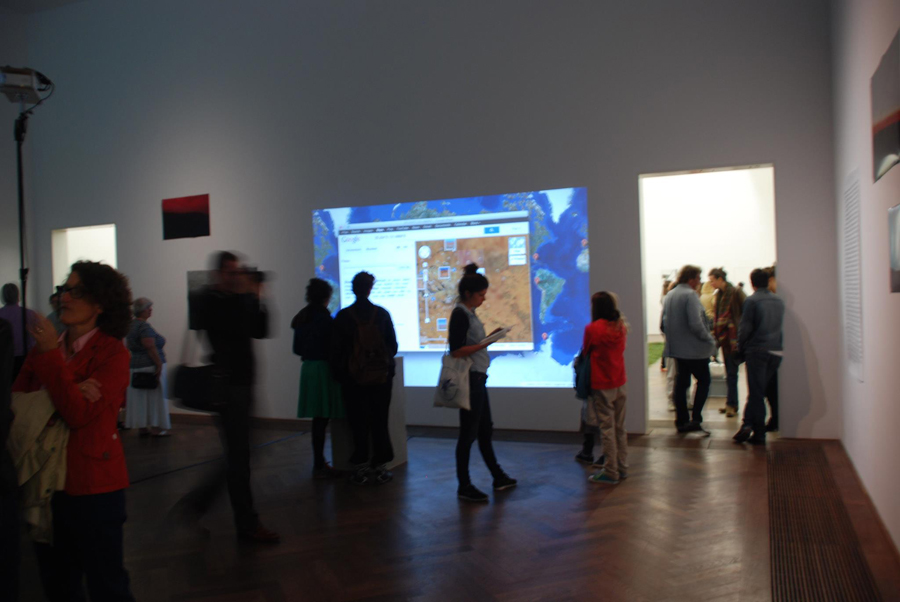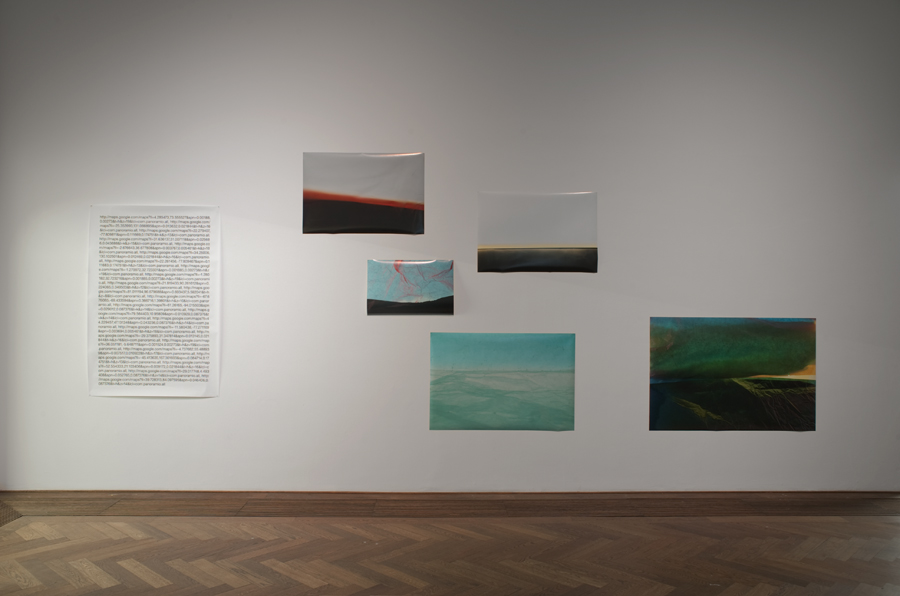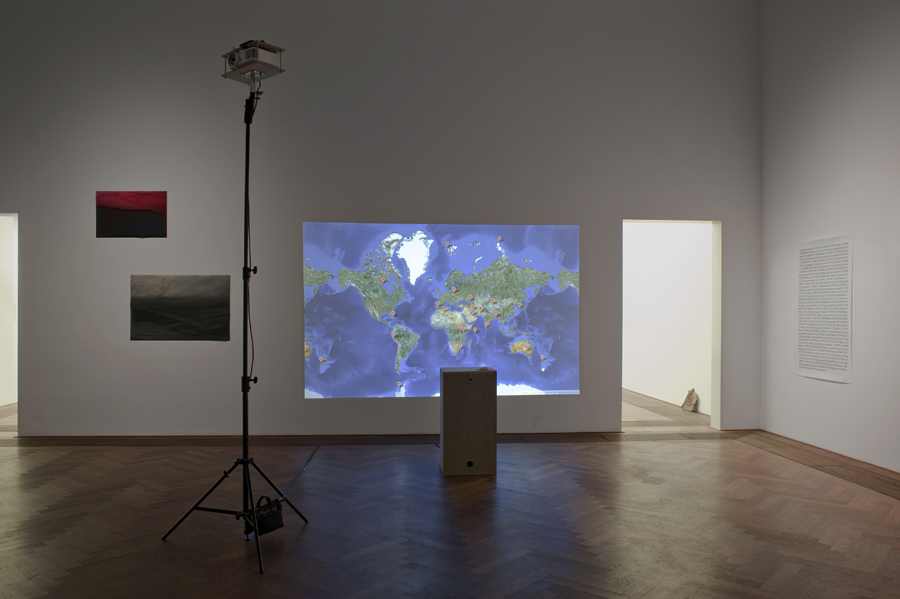 **
My work has been selected for the international portfolio viewing Plat(t)form 2012 at the FotoMuseum Winterthur (CH) held from 27 to 29 January 2012.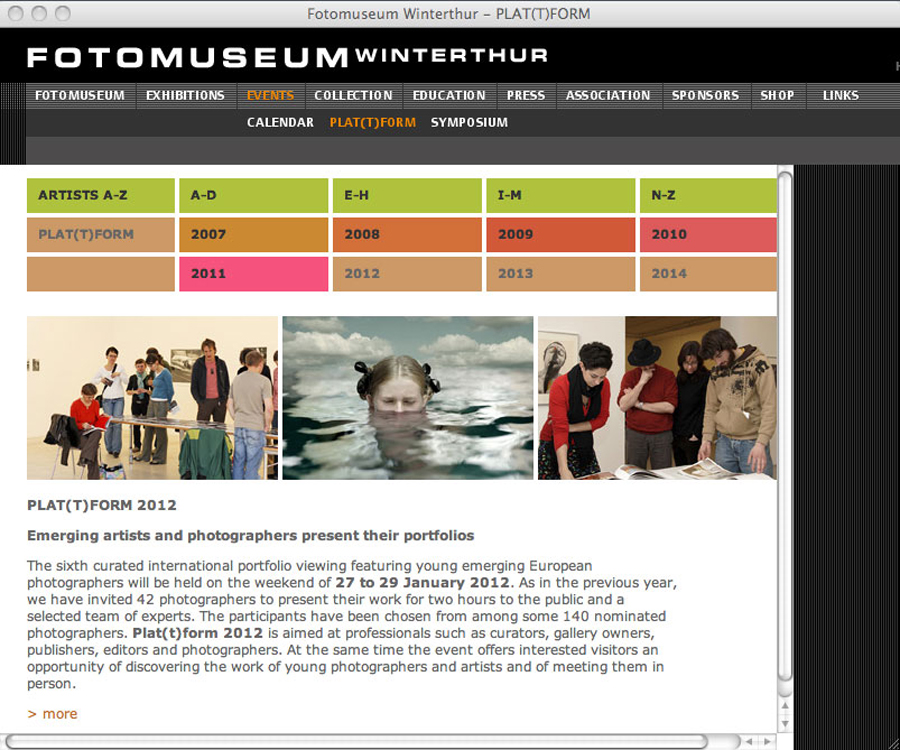 **
January 2012, KAPITEL 3: DER RAUM, Kaskadenkondensator
Raum für aktuelle Kunst und Performance, Basel, CH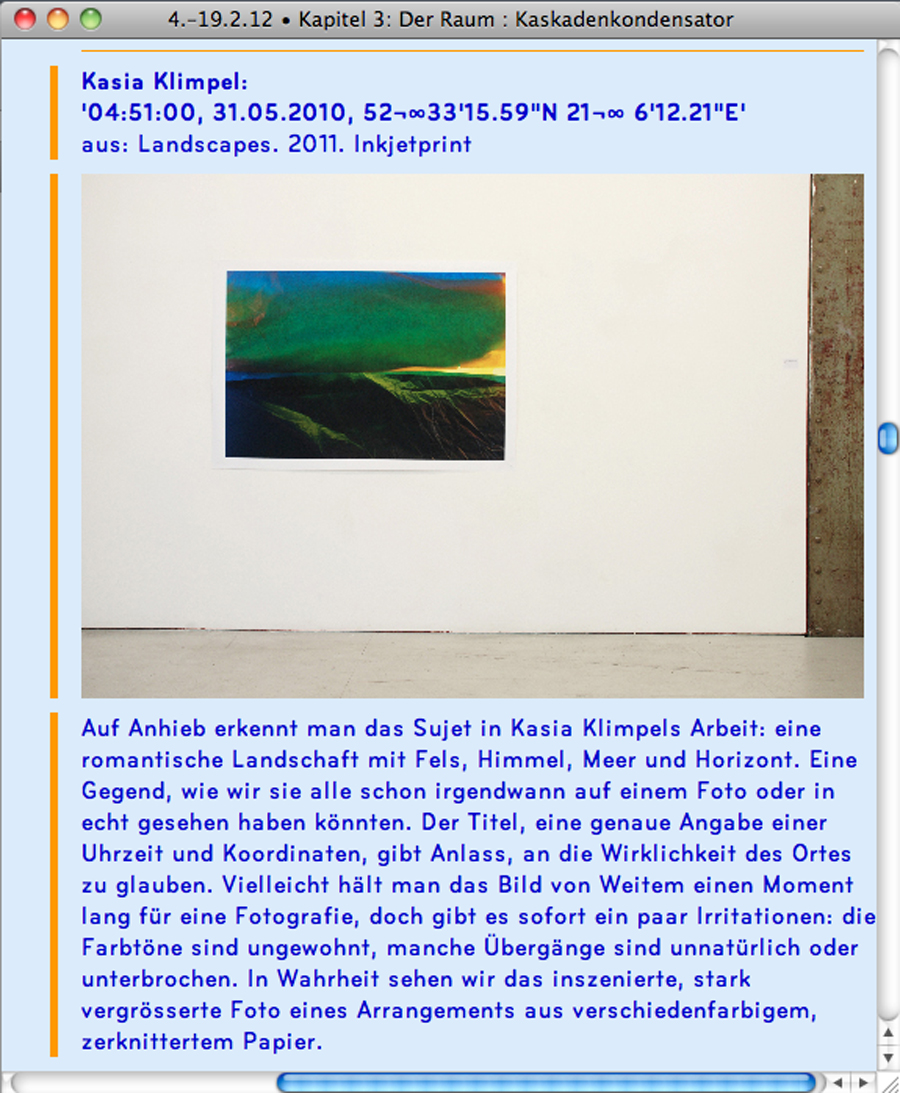 **
Information and Experience | Regionale 12 Kunstverein Freiburg, DE curated by Caroline Käding 25.11.2011 - 08.01.2012 http://www.kunstvereinfreiburg.de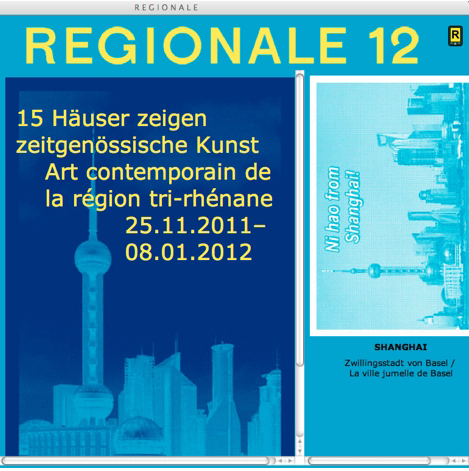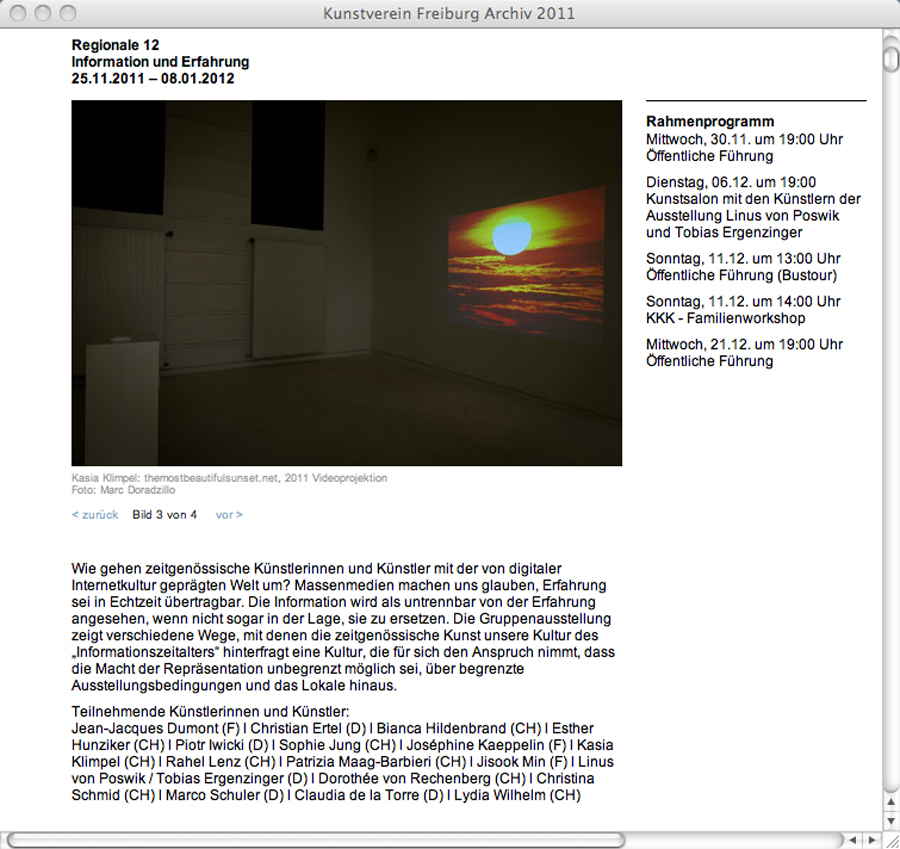 **
Of animals, electrons and other lies | Regionale 12 Haus für elektronische Künste, Basel, CH curated by Katharina Dunst and Laura Endtner 26.11.2011 – 08.01.2012 http://www.haus-ek.org/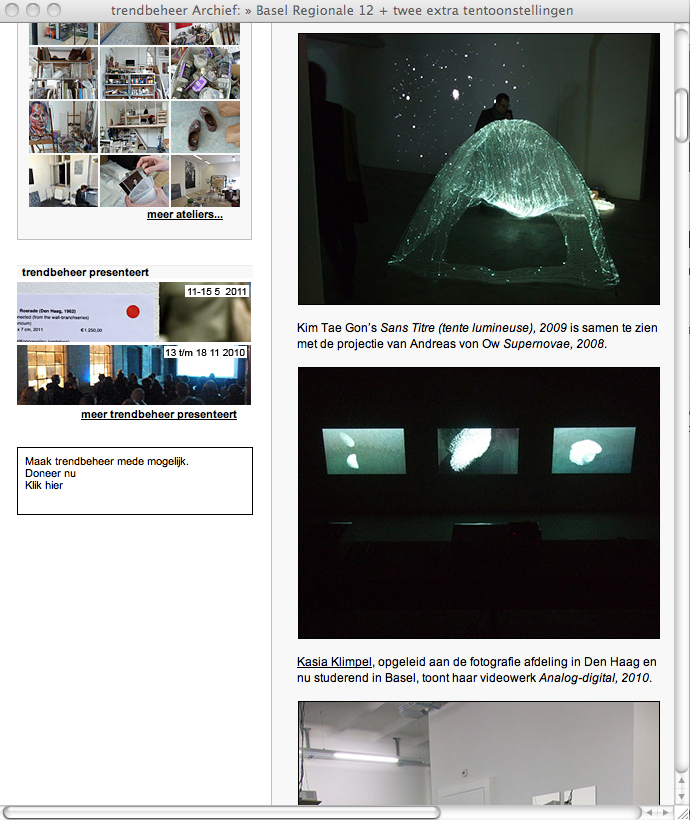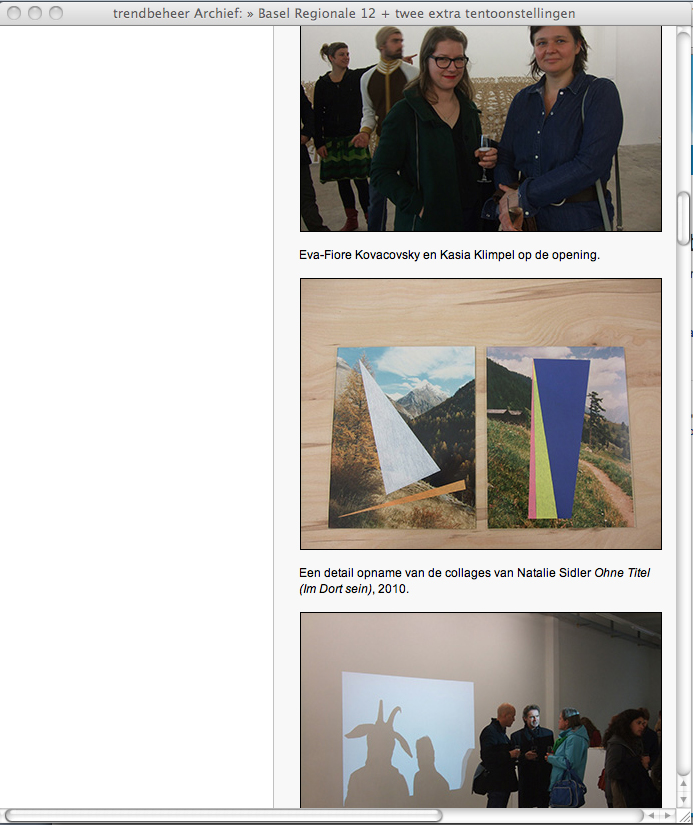 **
June 2011
Discover the most beautiful sunset at themostbeautifulsunset.net